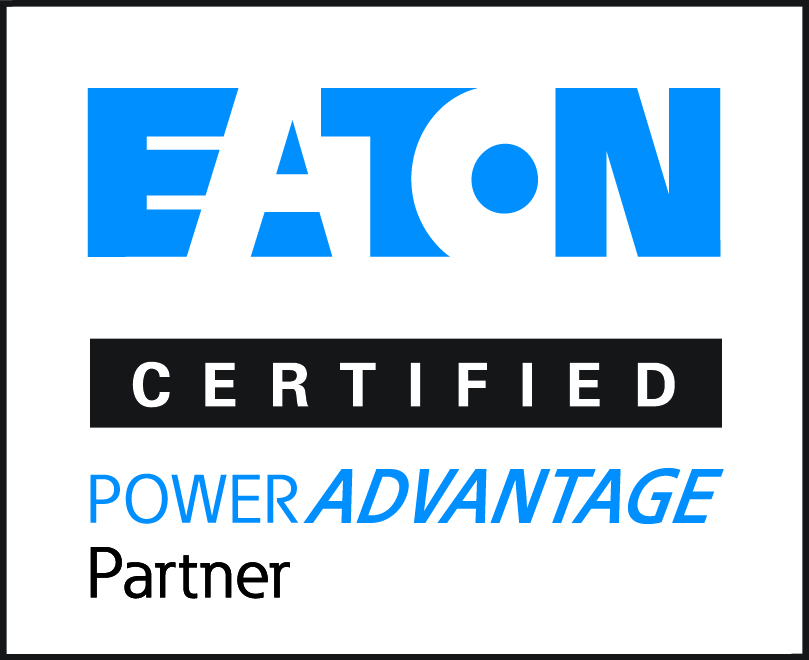 Eaton DIN Rail Industrial UPS

Reliable, flexible power protection for smart, connected industrial applications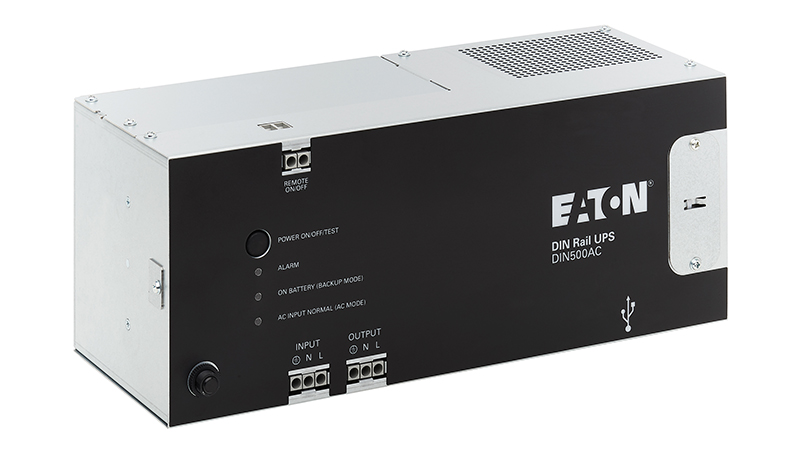 Eaton Products
DIN Rail UPS - 120V AC models
Eaton 500 VA/300W 120V AC DIN Rail Industrial UPS
#DIN500AC
Our Price: $764.00
Eaton 850 VA/510W 120V AC DIN Rail Industrial UPS
#DIN850AC
Our Price: $875.00
DIN Rail UPS - 24V DC models
Eaton 240W 24V DC DIN Rail Industrial UPS
#DIN24240DC
Our Price: $414.00
Eaton 480W 24V DC DIN Rail Industrial UPS
#DIN24480DC
Our Price: $491.00
Overview:
Designed to deliver reliable power and battery backup to computing, networking, control and storage equipment, the Eaton DIN rail industrial UPS withstands the demanding conditions of industrial environments. A compact housing with DIN rail mounting enables easy integration in non-traditional IT spaces, including factories, warehouses and edge computing locations. AC and DC power options offer compatibility with a wide variety of IT and OT applications.
Protect sensitive IIoT equipment
Power outages not only drain productivity from the factory floor, they also damage expensive IIoT equipment. Eaton's DIN rail industrial UPS protects productivity by providing enough runtime to maintain operation during a brief power outage and protects equipment by allowing it to complete an operation during an extended outage.
LEDs for visual monitoring
LED lights on the front of the UPS make it easy to access at a glance the health of the UPS. These lights will display normal operation or confirm alarm or fault states.
High operating temperatures
Heat rises in warehouses and fabrication facilities. The electrical equipment used to power those machines need to be able to keep up. Eaton's DIN rail UPS has a high operating temperature -- up to 122˚F (50˚C) -- to provide battery backup on even the hottest days.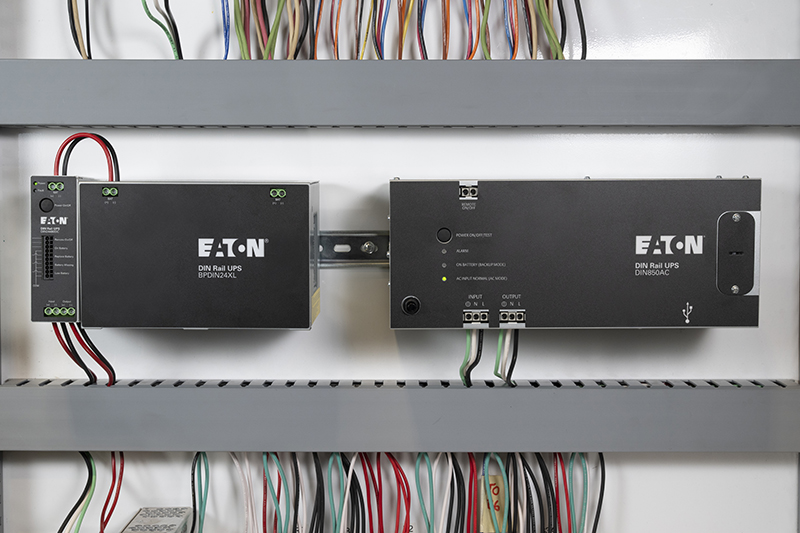 Features:
Meet the challenge of industrial environments
Designed for the factory floor and beyond
Built to fit in small spaces, the DIN rail UPS is a UL 508 recognized component for use in industrial panels. The rugged metal housing has a built-in clamp that enables quick mounting to 35 mm DIN rails. To reduce noise and increase reliability, the UPS has a fanless design.
Wide operating temperature range
Get full use of the UPS power capacity because there is no derating of the UPS based on its operating temperature range. The UPS can withstand hot and cold temperatures, so you have flexibility in its placement. In hot locations, a high temperature rating reduces the need for cooling.
Guard against expensive downtime
Reliable power protection and battery backup
Protect industrial internet of things (IIoT) devices against blackouts, brownouts, overvoltages and power surges. In the event of a prolonged outage, battery backup allows time for task completion and graceful shutdown of equipment.
Convenient automatic restart
AC models automatically restart when AC power is restored after an outage, eliminating the need for a site visit.
Stay in control of your operation
Monitoring and control
In addition to a power button, the UPS has remote on/off capability. LEDs on the front panel confirm normal operation and indicate alarm or fault status. AC models are compatible with PowerAlert Office software for UPS monitoring and control via USB connection. DC models have dry contacts for battery status and UPS communication.
Easy preventative maintenance and initial troubleshooting
An automatic self-test feature and battery indicator mode help you avoid maintenance surprises. AC models also have manual self-test capability and a user-replaceable internal battery to extend the life of the UPS and minimize disruption to operations. DC models require an external battery module (BPDIN24XL, sold separately) and support up to four battery modules to extend runtime.
Product support
Eaton provides product support 24 hours a day, 7 days a week. If you have a question or need to find a replacement battery, Eaton can help.
Specifications: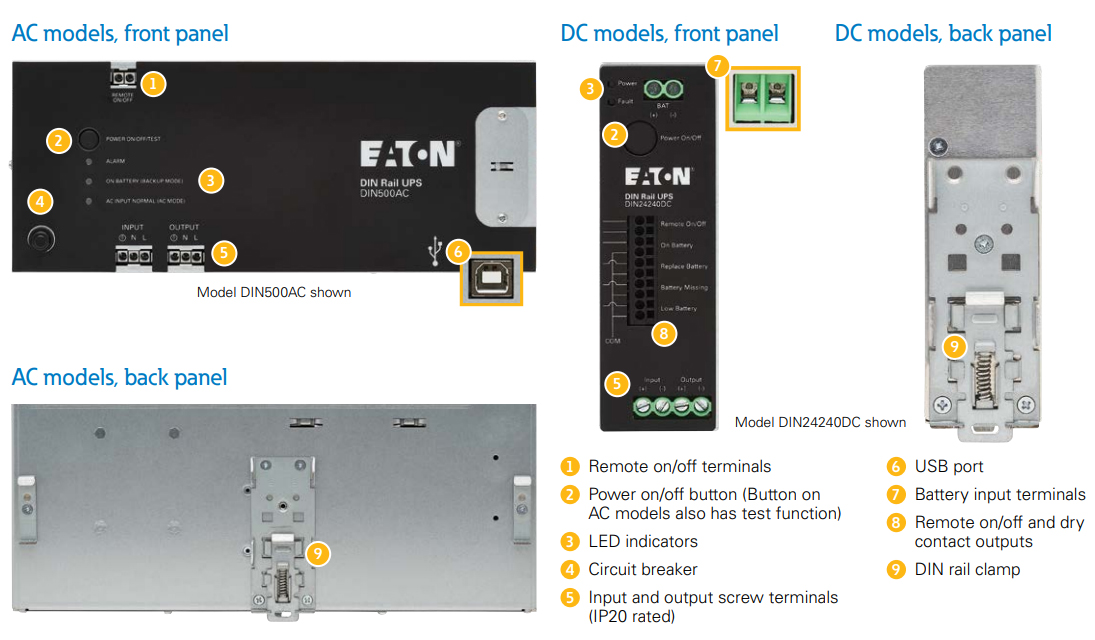 DIN500AC
DIN850AC
DIN24240DC
DIN24480DC
120V AC models
24V DC models
Topology
Standby
Standby
Standby
Standby
Ratings
500 VA/300W
850 VA/510W
240W
480W
Input/output connection
Hardwired
Hardwired
Hardwired
Hardwired
Battery type
Replaceable internal battery (SLA)
Replaceable internal battery (SLA)
BPDIN24XL battery module
(sold separately)**
BPDIN24XL battery module
(sold separately)**
Battery runtime (min) Full/half load
4/14.5
2/7
10/20 (1 battery)
3/10 (1 battery)
Operating temperature
32° to 122° F (0° to 50° C)
32° to 122° F (0° to 50° C)
5° to 122° F (-15° to 50° C)
5° to 122° F (-15° to 50° C)
Dimensions (H x W x D)
5.2 x 12.3 x 5.5 in
5.2 x 12.3 x 5.5 in
5.1 x 1.6 x 4.7 in
5.1 x 1.6 x 4.7 in
Net weight
11.6 lbs
12.13 lbs
0.9 lbs
0.9 lbs
Required DIN rail battery module for DIN24240DC & DIN24480DC
| | DIN24240DC | DIN24480DC |
| --- | --- | --- |
| +1 battery module runtime - Full load | 10 minutes | 3 minutes |
| +2 battery modules runtime - Full load | 23 minutes | 7 minutes |
| +3 battery modules runtime - Full load | 35 minutes | 14 minutes |
| +4 battery modules runtime - Full load | 50 minutes | 22 minutes |
| Catalog number | BPDIN24XL | BPDIN24XL |
* Due to continuous improvement programs, all specifications are subject to change without notice.
** One battery module is required. Up to four battery modules can be used to extend runtime.