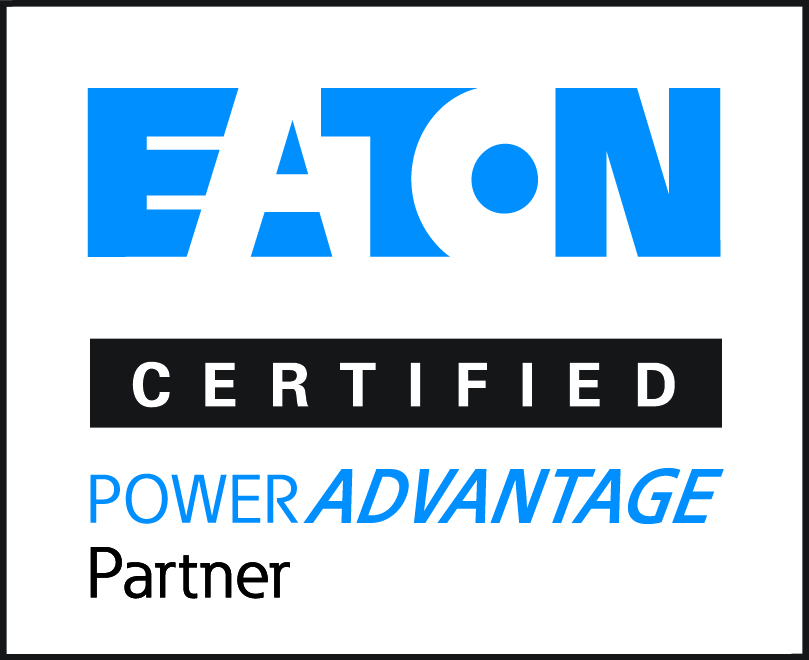 Eaton Surge Suppression

The best combination of price and performance for consumer electronics, PCs, printers and home theater equipment.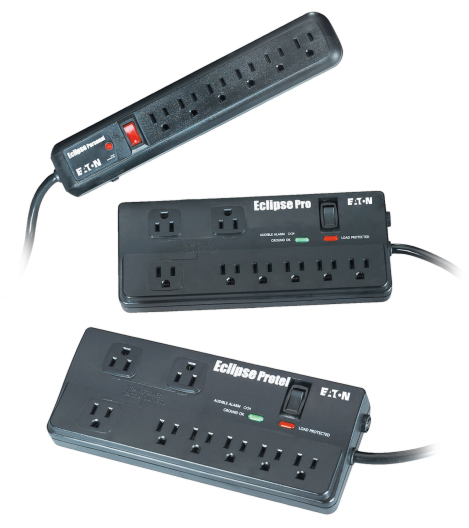 Eaton Products
Eclipse Series
Eclipse Personal 120V 1800W (6) 5-15R
#ECLL1800-PER
List Price:
$19.00
Our Price: $11.50
Eclipse Pro 120V 1800W (8) 5-15R
#ECLL1800-PRO
List Price:
$34.00
Our Price: $20.70
Eclipse ProTel 1800W (8) 5-15R
#ECLL1800-PROTEL
List Price:
$37.00
Our Price: $21.85
Overview:
Eaton's Eclipse surge suppressors offer the best price/performance ratio for home office / small office users looking for a convenient way to combine multiple receptacles and excellent surge suppression capabilities.
These three Eclipse models have been designed to meet any needs at home or in the office, from the simple Eclipse Personal to the complete Eclipse ProTel that boasts eight spaced receptacles, fax/modem protection and a unique flat rotating plug in a compact package. The Eclipse is the perfect choice for PCs, VCRs, home theaters and other sensitive equipment that requires surge protection.
Eclipse Personal
For home appliances or home/office PC use.
6 standard grounded outlets
Master On/Off switch for convenient control of all plugs
"Load Protected" LED will shut off if the surge suppression circuitry is no longer functional
15 Amp resettable circuit breaker provides overload protection
Eclipse Pro
For professional use including networked PCs, servers & business equipment.
360 degree rotating plug
5 standard grounded outlets
3 spaced outlets for protection of devices with transformer blocks
Master On/Off switch for convenient control of all plugs
"Load Protected" LED indicates normal operation of surge suppressor
"Ground OK" LED identifies correct AC ground for proper operation of surge suppressor
Audible alarm provides audible indication of failed surge suppressor
Technical Specs
General Information
Part Number
83500
83501
UPC Code
6-35760-83500-7
6-35760-83501-4
Retail Price (MSRP)
$10,00
$19,00
Packaging Contents
Contents: (1) Surge suppressor + User manual
Technical Characteristics
Power Rating (Watts)
1,800 W
Nominal Current
15 Amps
Input Voltage
120 V
Output Voltage
120 V
Frequency
60 Hz
User Interface (Eclipse Pro)
(1) "Load protected" LED + (1) "Ground OK" LED + Audible alarm
Color
Black
Output Connections
(6) NEMA L5-15R
(8) NEMA L5-15R
Input Connection
4-foot cord with NEMA 5-15P
6-foot cord with NEMA 5-15P
Dimensions (H x W X D)
11" x 2" x 1-1/4"
9-3/4" x 3-7/8" x 1-5/16"
Weight
1 Lbs
1.5 Lbs
Standards Compliance
UL1449, 1363 listed, (cUL)
UL1449, 1363, 1283 listed, (cUL)
Joules:
270
1,020
Clamping Voltage:
330V
Response time:
&lt 1 nanosecond
Warranty
2 Years