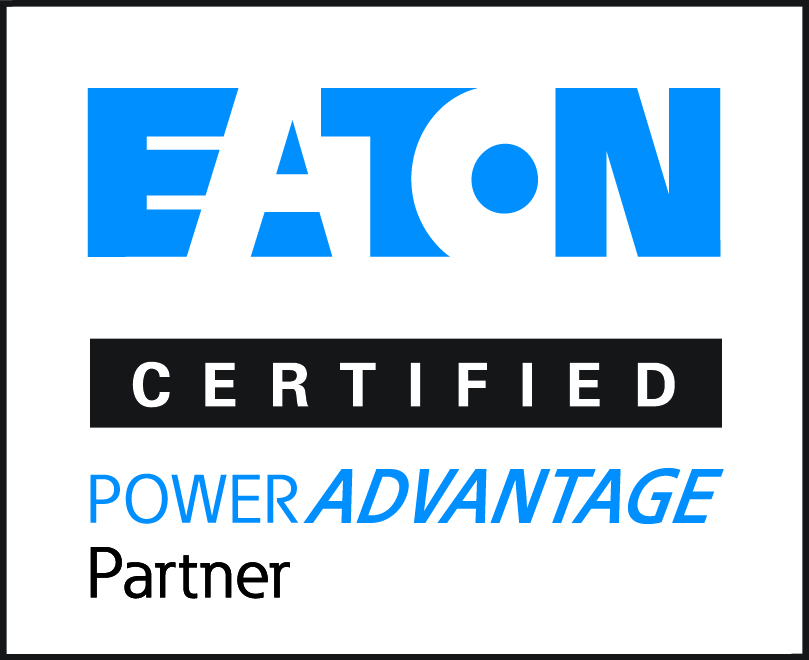 Eaton BladeUPS Power System

Uninterruptible Power Supply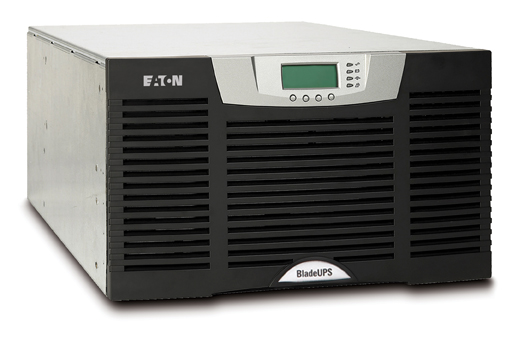 Eaton Products
BladeUPS (12 kW) Models: 208V
BladeUPS 12 kW 208V w/60A 5W in/5W out
#ZC1212200100000
List Price:
$16,000.00
Our Price: $12,708.65
BladeUPS 12 kW 208V w/60A 5W in/4W out
#ZC1212600100000
List Price:
$16,000.00
Our Price: $12,708.65
BladeUPS 12 kW 208V w/60A 5W in/RPM ONLY
#ZC1212000100000
List Price:
$15,800.00
Our Price: $12,549.95
More pricing below, click here!
Overview:
The Eaton BladeUPS is a revolutionary power quality solution that is scalable and modular. BladeUPS expands power protection from 12 to 60 kW in a single 19-inch rack while reducing energy and cooling costs.
Eaton also offers BladeUPS Preassembled Systems, the same great product, just simplified. All you have to do is bring power to the unit and perform the simple start-up procedure. Top and bottom entry models are available.
BladeUPS
Features
Grows with expanding IT applications using scalable architecture
Reduces operating expenses with more flexible, compact configuration options than traditional end-of-row solutions
Extends battery service life and optimizes battery recharge time with ABM technology
Conserves valuable rack space with power-dense 6U form factor
Delivers the highest levels of reliability with patented Powerware Hot Sync paralleling technology
BladeUPS Preassembled Systems offer simplified BladeUPS solution
BladeUPS Preassembled Systems:
Features
Factory pre-tested system accelerates installation and minimizes on-site testing requirements
Save up to 20% in shipping costs
Top and bottom entry models available
Modularity and scalability allow the system to be easily moved
Cost effective
Shipping Features
Shock-absorbent pallet
Specially-designed ramp included for easy on-site product placement
Extra space on pallet for internal batteries to provide improved weight distribution for five and six module systems during shipping
All product shipped as one unit resulting in lower cost and easier installation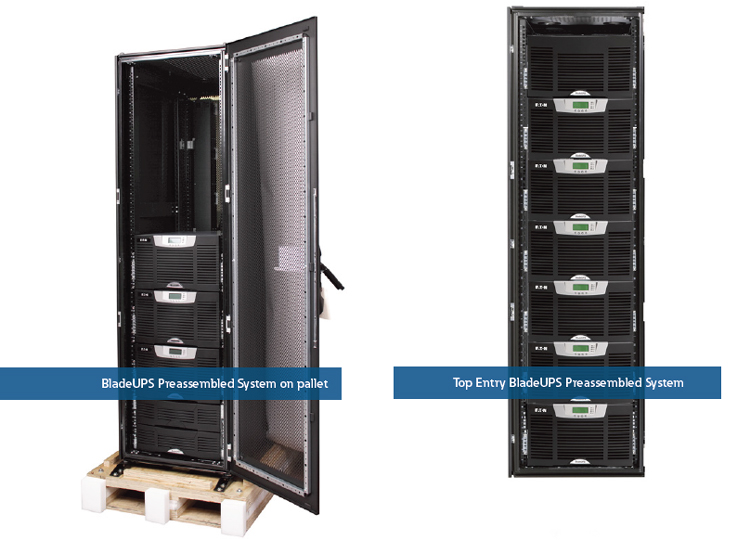 Designed specifically for high-density computing environments, the Eaton BladeUPS® delivers 12 kW of efficient, reliable power in only 6U of standard rack space, including batteries. You can expand capacity by combining the 12 kW modules in a building block fashion, to deliver up to 60 kW of redundant power, from a single rack enclosure.
Eaton has expanded the BladeUPS product offering and simplified it for easy customization, shipping and installation. Introducing the Eaton BladeUPS Preassembled System, a truly turn-key solution for growing data center needs. Depending upon your power requirements, preassembled systems can be ordered with one to six BladeUPS units installed to provide the right level of power protection, while still providing for future growth. All you have to do is bring power to the unit and perform the simple start-up procedure. Top and bottom entry models are available. The top entry models are ideal for data center environments that do not have a raised floor and offer a flexible option when facing moves, additions or changes to the data center.
The preassembled system is factory installed, tested and placed in a 42U rack. Eaton fully assembles the system, complete with communications cards and system wiring validation prior to shipping. The system is then delivered to you on a single, shock absorbent pallet.
Cost savings
BladeUPS Preassembled Systems are priced less than when ordering the standard system components and on-site installation service separately. When you order a preassembled unit you can save 7% on the overall cost of the product. Even more, since the preassembled unit is shipped on a single pallet, you can save up to 20% on shipping costs!
Easy Installation
The preassembled system comes with all the UPS modules and communication cards already installed. For BladeUPS systems with five and six modules the internal batteries are shipped uninstalled for better weight distribution.
Unwrap the rack and easily roll it off of the pallet via a speciallydesigned ramp that is packaged with the unit. Once the rack is set in place, all you have to do is bring electricity to the unit and initiate the start up.
Please note that extended battery modules and other BladeUPS accessories for these systems must be ordered separately.
Intelligent Power Software Suite:
Intelligent Power Manager: software for extensive monitoring and management
Intelligent Power Protector: shutdown software for extended power outages
Use each software independently or as a powerful combination. Together with your UPS, they provide end-to-end power management for maximum uptime and data integrity.
Intelligent Power Software Suite
Eaton's Intelligent Power® Software Suite incorporates two important applications for ensuring quality power and uptime: remote monitoring and management of power devices across the network and automatic, graceful shutdown when faced with an extended power outage.
Intelligent Power Manager supervisory software lets you monitor and manage multiple power and environmental devices across the network from a single interface, giving you up-to-the-minute information on the status of power in your network. It also works seamlessly with VMware's vCenter Server™ and vMotion™ as well as other platforms and migration applications.
Intelligent Power Protector protection software provides graceful, automatic shutdown of network devices during a prolonged power disruption, preventing data loss and saving work-in-progress. As part of Eaton's power network management system, these two applications work together to deliver comprehensive power management and protection. Both software programs are compatible with virtualization platforms from VMware®, Microsoft®, Red Hat® and Xen®.
Benefits for virtualized environments
Intelligent Power Manager's integration with platforms like vCenter and XenCenter™ helps data center managers reduce infrastructure and operating costs while increasing uptime, productivity and operational responsiveness.
View critical power information on devices including UPSs, ePDUs and environmental sensors from the vCenter or XenCenter dashboard
Instantly access critical information, such as UPS battery condition, load levels and battery runtime
Remotely and gracefully shut down servers in clusters during an extended power outage
Trigger vMotion, XenMotion™ and other migration applications to transparently move virtual machines to an available server on the network
Monitor power usage and kWh to help you calculate your power usage effectiveness (PUE) and identify where to cut costs
Intelligent Power Manager
When it comes to managing power on your network, one missed anomaly or malfunctioning power device brings everything to a halt. Keeping an eye on the status of power devices across the network, and intervening before a blip cascades into a catastrophe, is a top priority.
Eaton's Intelligent Power Manager brings managing a wide range of power and environmental devices under control through a single, Web-based interface. This versatile software solution is compatible with network-enabled power devices, including Eaton UPSs, non-Eaton UPSs, environmental sensors and ePDUs. In addition, Intelligent Power Manager is the first power management software to not only integrate with VMware's vCenter, letting you manage power to your virtualized environment through the vCenter dashboard, but also to enable the remote shutdown of servers in clusters. Intelligent Power Manager even integrates with several virtualization platforms allowing ease of management and live migration, which will transparently move virtual machines from a server affected by a power interruption to a non-affected server on the network, maintaining data integrity with no downtime.
Features
Monitor and manage multiple power and environmental devices from any Internet browser or your virtual machine management dashboard
User-definable tree structure enables grouping, access and management of multiple devices across multiple locations
Power consumption monitoring helps you track ways to improve both energy efficiency and PUE
Auto discovery provides fast installation by automatically detecting devices on the network
Mass-upgrading of firmware capability reduces network management card setup and maintenance time
Power device asset management tracks moves, adds and changes of equipment
SNMP devices are visible and their individual Web interfaces are accessible for editing and configuration
Multiple password-protected access levels and support for secure communications
All the functionality of an enterprise-class monitoring solution for free or at a fraction of the cost

Intelligent Power Protector
Most UPS applications are designed to protect your network devices from power anomalies, including surges, sags and frequency variations. But when the power goes out for longer than your available battery runtime, Intelligent Power Protector software facilitates automatic, graceful shutdown of computers, servers and network devices powered by a UPS, saving all work-in-progress and ensuring data integrity.
Intelligent Power Protector's versatile user interface shows you detailed information about connected servers and UPSs through USB and serial or network communication. The software has a clear, easy-to-use, multilingual interface available on any PC with a Web browser.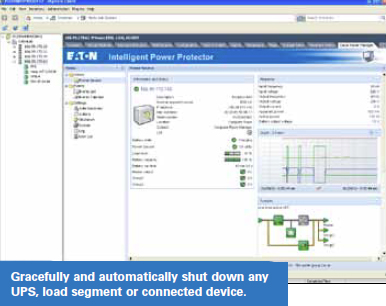 Features
Helps you avoid data loss by gracefully shutting down computers and virtual machines/servers powered by an Eaton UPS during an extended power outage
Watchdog capability keeps kiosks with a PC or server running smoothly by automatically identifying hang-ups and rebooting the machine
Provides redundancy capability for dual-cord servers
Easy-to-use interface from any PC with a Web browser
Acquires UPS information through local or network communication and can be easily deployed on many computers
Can be remotely managed, configured and updated with Eaton's Intelligent Power Manager
Can communicate with the protected device directly (via USB) or through the network (via Web/SNMP card)
Specifications:

Product Snapshot
Power Rating
12-60 kW
Voltage
208 Vac and 400 Vac models
Frequency
50/60 Hz
Topology
Double conversion on demand
Efficiency
Up to 97%
Configuration
Rackmount
Pricing Notes:
Pricing and product availability subject to change without notice.
Eaton Products
BladeUPS (12 kW) Models: 208V
BladeUPS 12 kW 208V w/60A 5W in/5W out
#ZC1212200100000
List Price:
$16,000.00
Our Price: $12,708.65
BladeUPS 12 kW 208V w/60A 5W in/4W out
#ZC1212600100000
List Price:
$16,000.00
Our Price: $12,708.65
BladeUPS 12 kW 208V w/60A 5W in/RPM ONLY
#ZC1212000100000
List Price:
$15,800.00
Our Price: $12,549.95
BladeUPS 12 kW 208V w/parallel cord
#ZC121P060100000
List Price:
$15,800.00
Our Price: $12,549.95
BladeUPS 12 kW 208V w/60A 5W in/5W out w/Power Xpert SNMP/ModBus
#ZC1212208100000
List Price:
$16,600.00
Our Price: $13,185.90
BladeUPS 12 kW 208V w/60A 5W in/4W out w/Power Xpert SNMP/ModBus
#ZC1212608100000
List Price:
$16,600.00
Our Price: $13,185.90
BladeUPS 12 kW 208V w/60A 5W in/RPM ONLY w/Power Xpert SNMP/ModBus
#ZC1212008100000
List Price:
$16,400.00
Our Price: $13,026.05
BladeUPS 12 kW 208V w/parallel cord w/Power Xpert SNMP/ModBus
#ZC121P068100000
List Price:
$17,200.00
Our Price: $13,662.00
BladeUPS 8 kW 208V w/ NEMA L21-30P in/ L21-30R out
#ZC0811100100000
List Price:
$11,800.00
Our Price: $9,372.50
BladeUPS 8 kW 208V w/ NEMA L21-30P in/ L21-30R out w/Power Xpert SNMP/Modbus
#ZC0811108100000
List Price:
$12,400.00
Our Price: $9,849.75
BladeUPS 5kW 208V w/NEMA L21-20P in/L21-20R out, 1 Int batt string
#ZC0517700110000
List Price:
$10,000.00
Our Price: $7,943.05
BladeUPS 5kW 208V w/NEMA L21-20P in/L21-20R out, 1 Int batt string w/PXGX SNMP/ModBus
#ZC0517708110000
List Price:
$10,600.00
Our Price: $8,419.15
BladeUPS 5kW 208V w/NEMA L21-20P in/L21-20R out, 2 Int batt string
#ZC0517700100000
List Price:
$10,700.00
Our Price: $8,498.50
BladeUPS 5kW 208V w/NEMA L21-20P in/L21-20R out, 2 Int batt string w/PXGX SNMP/ModBus
#ZC0517708100000
List Price:
$11,300.00
Our Price: $8,975.75
BladeUPS (12 kW) Models: 400V
BladeUPS 12kW 400V w/IEC 309-32A 5W in/5W out
#ZC1224400100000
List Price:
$16,000.00
Our Price: $12,708.65
BladeUPS 12kW 400V w/IEC 309-32A 5W in/5W out w/PXGX SNMP/ModBus
#ZC1224408100000
List Price:
$16,600.00
Our Price: $13,185.90
BladeUPS 12kW 400V w/IEC 309-32A 5W in/5W out
#ZC1224008100000
List Price:
$16,400.00
Our Price: $13,026.05
BladeUPS 12kW 400V w/parallel cord
#ZC122P060100000
List Price:
$16,000.00
Our Price: $12,708.65
BladeUPS 12kW 400V w/parallel cord w/PXGX SNMP/ModBus
#ZC122P068100000
List Price:
$17,400.00
Our Price: $13,820.70