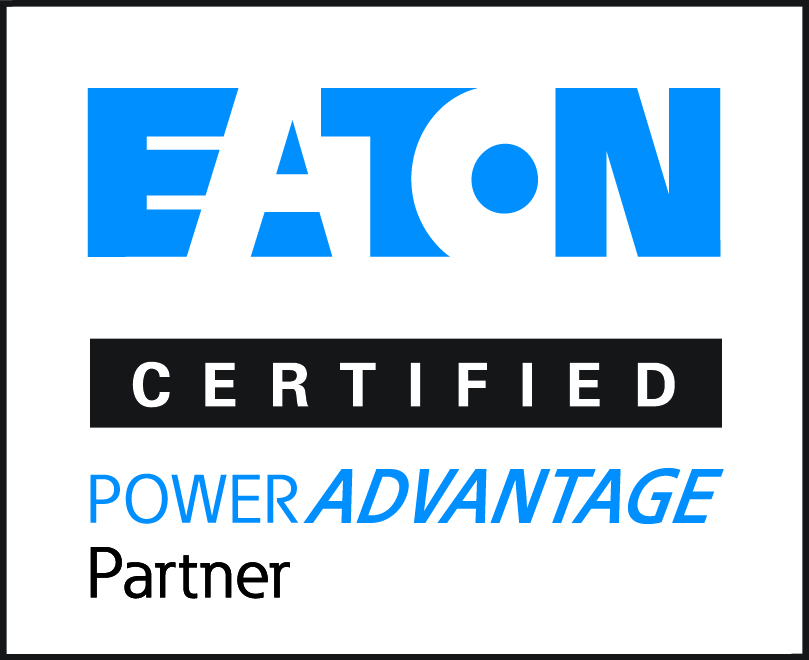 Eaton 5SC UPS

Affordable and reliable protection for small business servers, storage and network equipment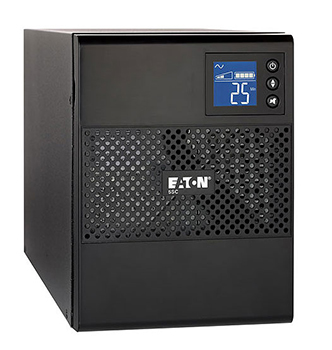 Eaton Products
5SC UPS Models
5SC500 Tower
UPS 350 watts / 500 VA - 120V - 5-15P Input; (4) 5-15R Output
#5SC500
List Price:
$248.00
Our Price: $213.90
5SC750 Tower
UPS 525 watts / 750 VA - 120V - 5-15P Input; (6) 5-15R Output
#5SC750
List Price:
$360.00
Our Price: $309.35
5SC1000 Tower
UPS 700 watts / 1000 VA - 120V - 5-15P Input; (8) 5-15R Output
#5SC1000
List Price:
$411.00
Our Price: $353.05
5SC1500 Tower
UPS 1080 watts / 1500 VA - 120V - 5-15P Input; (8) 5-15R Output
#5SC1500
List Price:
$530.00
Our Price: $455.40
Overview:
Eaton® 5SC features and benefits:
LCD display: The LCD interface provides clear status of UPS key parameters such as input and output voltage, load and battery level, and estimated runtime. Configuration capabilities are also offered for output voltage, audible alarm and power input sensitivity.
Battery life: Eaton's exclusive ABM® technology increases battery service life by 50 percent with easy front panel battery replacement to extend UPS service life.
Manageability:
USB, serial and relay connectivity: USB port is HID-compliant for automatic integration into Windows, Mac OS and Linux.
Eaton Intelligent Power Manager (IPM): IPM software provides network power management. 5SC is managed over the network through a proxy server having IPP installed.
Reliable power protection:
Pure sinewave output: When operating in battery mode, the 5SC provides a high-quality output signal for any sensitive equipment connected.
Buck and boost operation: The 5SC corrects a wide range of input voltage variations through continuous regulation without the use of batteries, and ensures consistent input voltage to the connected equipment.
Flexible integration:
Convenient form factor: The 5SC fits easily into small spaces such as kiosks, cash machines and ticket machines while delivering flexibility with up to eight outlets.
Adjustable input waveform sensitivity: The 5SC is adaptable to specific environments, like genset.
Intelligent Power Software Suite:
By integrating Intelligent Power Manager and Intelligent Power Protector software with the 5SC, you can:
Get up-to-the-minute information on the status of UPS power locally on your PC or remotely through your PC/server as a proxy
Execute graceful, automatic shutdown of network devices during a prolonged power disruption, preventing data loss and saving work-in-progress
Manage and optimize power performance in your virtual environment and manage your 5SC on the same screen
5 series UPS Overview:
5 Series Platform Capabilities
Model
5PX Rackmount
5P Rackmount
5P Tower
5SC Tower
5S Tower
Power range
1000-3000 VA
550-3000 VA
550-3000 VA
500-1500 VA
550-1500 VA
Extended battery module
Outlet metering
Network card slot
Virtualization-ready bundles with network card
Outlet control
Sinewave output on battery
Graphical LCD
Icon-based LCD
ABM® technology (50% longer battery service life)
Virtualization-ready software
UPS companion software
ENERGY STAR qualified
3-year warranty (including batteries)
Eaton 5S
Competes against Back-UPS Pro
Why the 5S?
Cost-effective solution for desktops and POS equipment
Cut energy costs up to 30% with EcoControl technology
Seamless integration with WindowsT, MacintoshT and LinuxT
Eaton 5SC
Competes against Back-UPS Pro
Why the 5SC?
Ideal for protecting small business servers, network-attached storage (NAS), network equipment, ATMs, ticket machines and kiosks
Small footprint for easy integration within small spaces
USB port for automatic HID identification on Windows®, Mac® and Linux®
Best price to performance ratio in its class
Pure sinewave output for any sensitive equipment attached
Eaton 5P
Competes against Smart-UPS SMTM
Why the 5P?
Seamless integration with the leading virtualization platforms
Flexibility with multiple form factors, ideal for high density environments
Premium protection for servers, network equipment and storage
Standard communication slot for optional network card
Eaton 5PX
Competes against Smart-UPS SMX
Why the 5PX?
Extend battery runtimes with extended battery modules (EBMs)
Advanced integration with virtualization platforms from VMwareT, CitrixT, Red HatT and MicrosoftT
Full array of communications capabilities with bundled network card (virtualization-ready "N" bundles)
Optimum protection for NetAppT and CiscoT ExpressPodT converged infrastructure platform
Specifications: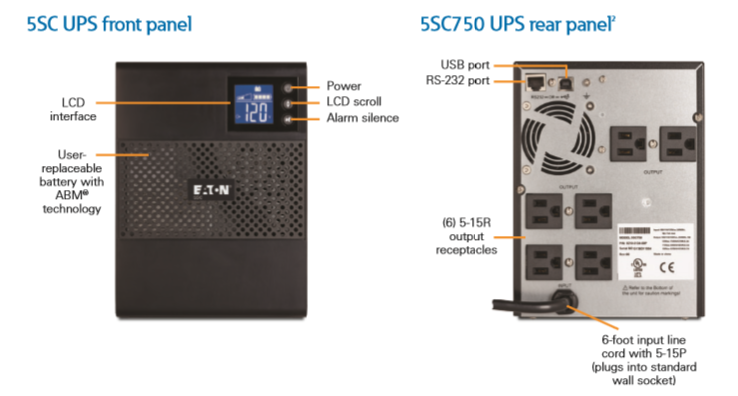 5SC Tower 120V, 50/60 Hz models
Rating (VA/watts)
Input connection
Output receptacles
Dimensions (H x W x D), in
Net weight, l
5SC500

500/350
5-15P (6 ft)
(4) 5-15R
8.2 x 5.9 x 9.4
15.2
5SC750

750 / 525
5-15P (6 ft)
(6) 5-15R
8.2 x 5.9 x 13.
23.1
5SC1000

1000/700
5-15P (6 ft)
(8) 5-15R
8.2 x 5.9 x 13.4
25.6
5SC1500

1440/1080
5-15P (6 ft)
(8) 5-15R
8.2 x 5.9 x 16.1
34.0