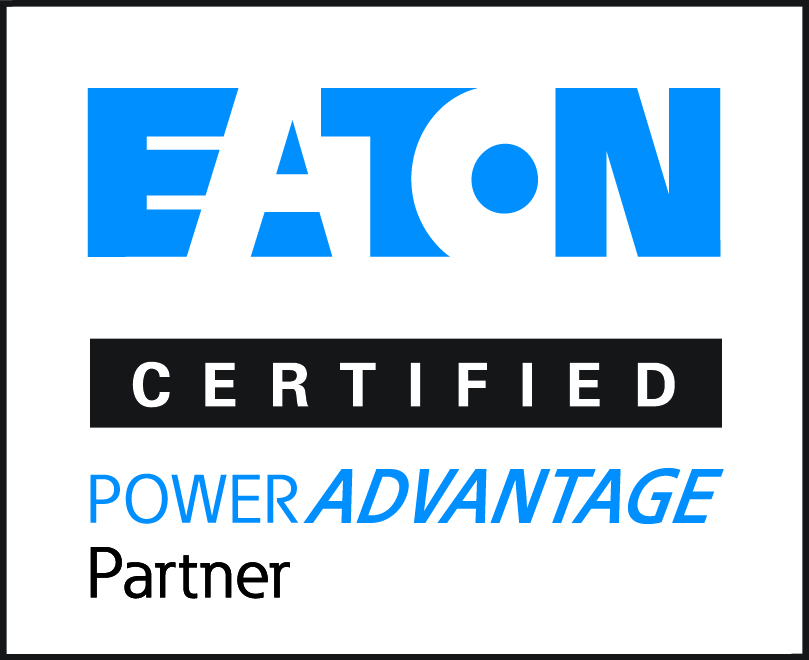 Eaton 93PM UPS

Uninterruptible Power Supply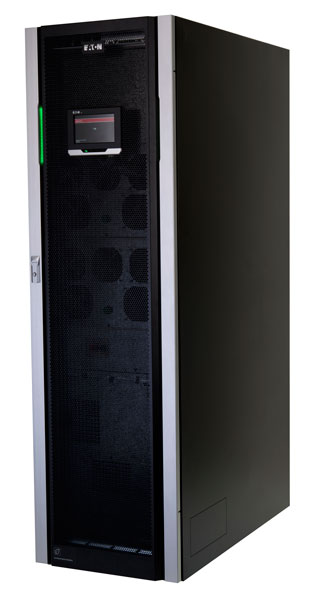 Eaton Products
93PM UPS (50 kW) Base Models
93PM 50 kW UPS
#93pm-ups
Get a Quote!
Overview:
Innovative design delivers industry-leading power performance
The Eaton® 9390 is a double-conversion uninterruptible power system (UPS) that resolves all utility power problems and supplies clean, continuous, uninterruptible power to connected equipment. Whether you're selecting a UPS for a branch office, manufacturing floor, medical facility, or data center, there's a 9390 model that delivers just the right combination of performance and price for your needs.
Features and Benefits
Transformer-less design

Increased efficiency over transformer-based UPSs
Smaller footprint and higher power density
Lower installation and shipping costs

Flexible Installation

Mount directly next to a wall or even in a corner.
Completely accessible for service and maintenance from front panel
Top and bottom cable entry

Voltage Options

Conventional 208V and 480V for standard US system designs
Available 400V for higher efficiency US system designs

Powerware Hot Sync

Easily expand system capacity
Sync parallel configurations without fail-prone control wires

Advanced Battery Management

Cyclical battery charging increases service life of batteries, reducing total cost of ownership
Sophisticated battery condition monitoring, testing, and alerts identify potential problems before they affect your load

Low Total Harmonic Distortion

Low input THD ensures compatibility with extended backup power sources (generators).
Low output THD provides clean pure power to operate the load safely and efficiently

Complete line of system accessories

Battery cabinets
Integrated distribution cabinets
Integrated accessory cabinets
Features:
High efficiency options reducing costs and wasted energy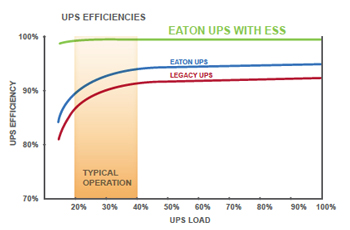 Energy Saver System
The 9390 has delivered excellent energy efficiency since its introduction to the market, helping facilities save thousands in energy costs over traditional UPS designs. Now with the available Energy Saver System (ESS), the 9390 achieves over 99 percent efficiency no matter how large or small the load. This additional energy savings is achieved through advanced power core technology, and continues to provide the load with maximum protection. Unlike traditional "eco" modes, ESS is not just a utility bypass.
400 Volt
In addition to conventional (208V and 480V) voltage capabilities, the 9390 now has the ability to support direct-connect 400/230 Vac for powering directly to the IT rack. This capability allows for the deployment of a UL/CE rated UPS that can protect and distribute 400/230 Vac directly to IT racks without an additional stepdown transformer. Some of the efficiencies and benefits of this alternative voltage powering are:
Elimination of the step-down 480-208 volt transformer lowers heat losses, saves valuable floor space, and significantly reduces capital expenditure
Higher voltage directly to IT equipment allows it to operate at higher efficiency (no changes required, as virtually all servers are rated to operate at up to 240 Vac)
No changes to power distribution equipment since connectors and circuit breakers already exist with these ratings
End-to-end efficiency of a 400V system design can be up 8% higher than that of a traditional 480V system.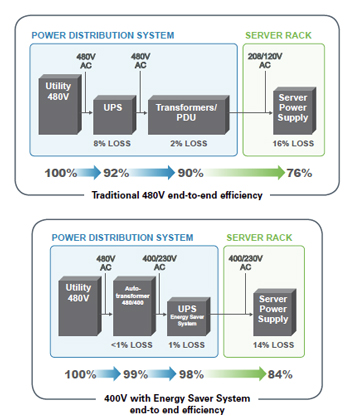 Scalable architecture meets your current and future load requirements
The 9390 supports up to 160 kVA to deliver power protection for small branch offices to large corporate data centers and communication networks. Up to four equivalent 9390 modules can be paralleled for additional capacity or redundancy, without having to utilize a central bypass cabinet. In all paralleling configurations, each UPS module operates independently yet is completely synchronized with the others. Parallel UPS modules can provide N+1, N+2 or greater redundancy.
Powerware Hot Sync technology: The culmination of power reliability
Eaton's patented Powerware Hot Sync® technology enables multiple UPSs to share the load equally, eliminating the transfer time when shifting the load from one module to the other. The load share control algorithms maintain adjustments to variations in the output power requirements.
When two or more UPSs operate in parallel for capacity and redundancy, Hot Sync addresses the two primary concerns of load sharing and selective tripping. To address these concerns for reliability – the degree of autonomy and the complexity of implementation – Hot Sync combines digital signal processing and an advanced control algorithm to provide automatic load sharing and selective tripping in a parallel system, as well as complete autonomy of the modules and a skillfully simple implementation.
Powerware Hot Sync wireless paralleling technology for capacity or redundancy
This two-module system shown below can be configured as 160 kVA N+1 redundant (320 kVA capacity with 36-inch tie cabinet). The width of this configuration is a compact 164.6 inches. The 9390 achieves optimum reliability and flexibility with the following design features:
Unlike other paralleling techniques, there is no system-level single point of failure
Hot Sync systems are capable of paralleling for both redundancy and capacity
By using a peer configuration as opposed to a master-slave configuration, Hot Sync ensures that each module is operating independently
No added circuitry or components are required to be switched in to operate in parallel
With thousands of successful systems installed globally, Hot Sync is a proven technology
The output of multiple UPSs remains in phase so that static transfer switches connected between the separate distribution paths may change state seamlessly when necessary
Each parallel unit operates with its own battery string – if any unit goes offline or is taken down for maintenance, the remaining units support the load fully with their battery capabilities. If any battery string fails, the remaining strings continue to support the load – thus eliminating a key potential single point of system failure.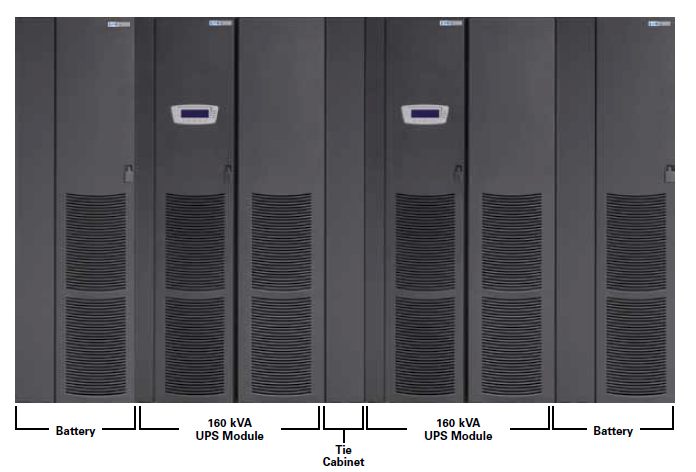 Flexible installation options expedite deployment and save valuable space
The 9390 offers the smallest footprint of any UPS in its class—35 to 50 percent smaller than competitive units. Cabling can enter the UPS from either the top or bottom of the cabinet to provide easier and flexible installation. And since the compact 9390 cabinet can be installed against back and side walls, you have more location options, installation is fast and easy, deployment cost is lower, and you save valuable data center space.
Weight
At $.30 per pound, the 9390 averages a cross-country freight savings of over $630. With a transformerless design, Eaton UPS solutions meet or exceed virtually all floor loading standards. And with this lower weight, units can be moved without heavy capital equipment and can fit in all standard freight elevators.
Retrofit applications
The 9390 is perfect for retrofit operations. When an existing UPS is exceeding capacity but has no room to expand, or when the service contract is expiring, the existing UPS can be removed and replaced with a 9390 that offers more power in less space.
Serviceability and accessibility
Being a pre-wired, integrated module, the 9390 saves time and cost of installation and cabling expenses because of standard top or bottom entry design. And with front access, the 9390 can be placed in a corner or against a wall—easily available for service and saving valuable space.
Performance features to maximize compatibility
Low input current THD enhances generator compatibility
Electronic devices and UPSs are built with some components that are non-linear. When voltage is applied to a circuit constructed of non-linear components, the circuit may not respond linearly (current may not follow the voltage in a linear manner). These components may even create frequencies other than the fundamental applied frequency (60 Hz).
These frequencies (harmonics) occur in odd multiplies of 60 Hz. The degree of occurrence is called total harmonic distortion (THD). If the power source can't respond to all frequencies demanded by the circuit, then further distortion of the applied voltage may occur—creating more complication. Every UPS produces a level of harmonics. Unchecked, harmonics can reduce overall power factor, cause sensitive devices to malfunction, prematurely age equipment, and cause screens and displays to flicker.
To avoid these negative effects, the 9390 uses a special input circuit that keeps current THD at less than 4.5% at full load— without compromising efficiency. As a result, the 9390 transfers maximum power between the source and protected load and is exceptionally compatible with multiple power sources, especially auxiliary generators.
Power factor performance maximizes compatibility and meets high power factor load requirements
Power factor (PF) describes the slight phase shift between voltage applied to a circuit and current that the circuit draws in response to the applied voltage. The maximum power factor possible is unity (1.0), or no phase shift between the voltage applied and the circuit current response—maximum transfer of power between source and load. However, in the real world, the UPS must be able to accept power from and deliver power to circuits that have a wide range of power factors.
Older or worn equipment often results in lower power factor readings. Some new servers operate at unity power factor. Lightly loaded facilities such as brand new data centers, can often show leading power factor readings.
On output, the ultra high-speed switching pulse width modulation (PWM) inverter enables the 9390 to provide its full rated power capability to the load, down to 0.9 leading power factor without de-rating.
Double-conversion design offers highest available protection
Unlike other commercially available UPS technologies, the doubleconversion design completely isolates output power from all input power anomalies and delivers 100% conditioned, perfect sine wave output—regulating both voltage and frequency, providing protection from all nine common power problems.
Due to the 9390's built in high-efficiency capability, it operates in a consistent, efficient status without compromising power protection. Even when presented with the most severe power problems, power output remains stable with the 9390. Output voltage THD is held within two percent of nominal specification for linear loads, within five percent for non-linear loads—making the 9390 ideal for supporting equipment that is sensitive to a distorted voltage input as a result of harmonic loads. In the event of a utility power failure, there is no delay transferring to backup power.
Advanced battery management optimizes battery performance and service life
The 9390 UPS offers innovative technologies to maximize the health and service life of its internal and external batteries:
ABM technology uses a unique three-stage charging technique that significantly extends battery service life and optimizes recharge time when compared to traditional trickle charging
Temperature-compensated charging monitors battery temperature and adjusts the charge rate accordingly, which properly charges the battery and greatly extends battery life
An integrated battery management system tests and monitors battery health and remaining lifetime, providing user notification to guide preventive maintenance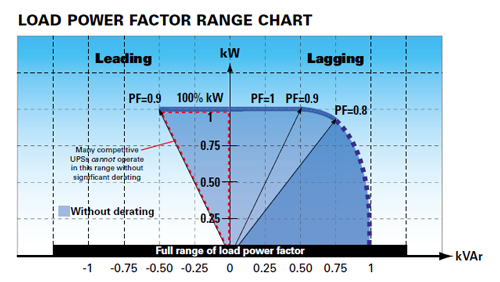 Specifications: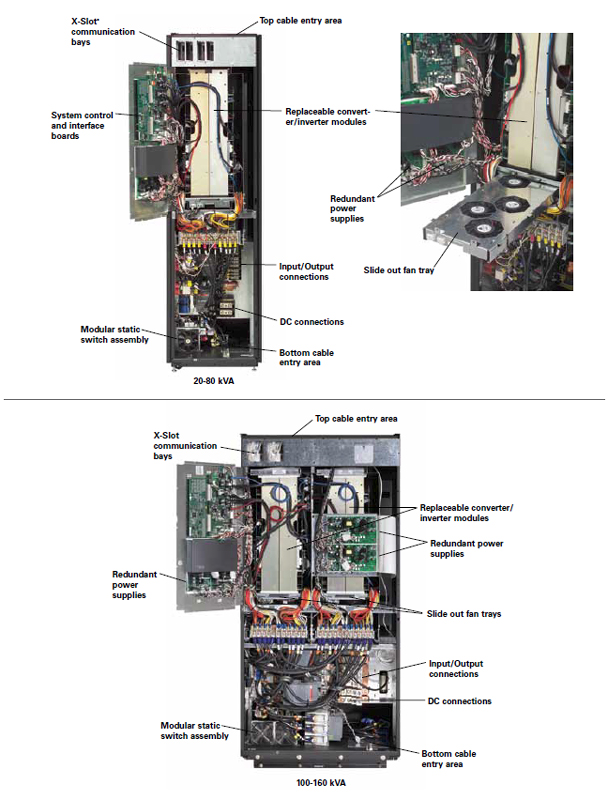 Product Snapshot
Power Rating
20-160 kVA
Voltage
208/208, 380/380, 400/400, 480/480 (standard) 600/600, 600/208, 480/208 (optional)
Frequency
55-65 Hz
Configuration
Tower
Product Series
Powerware