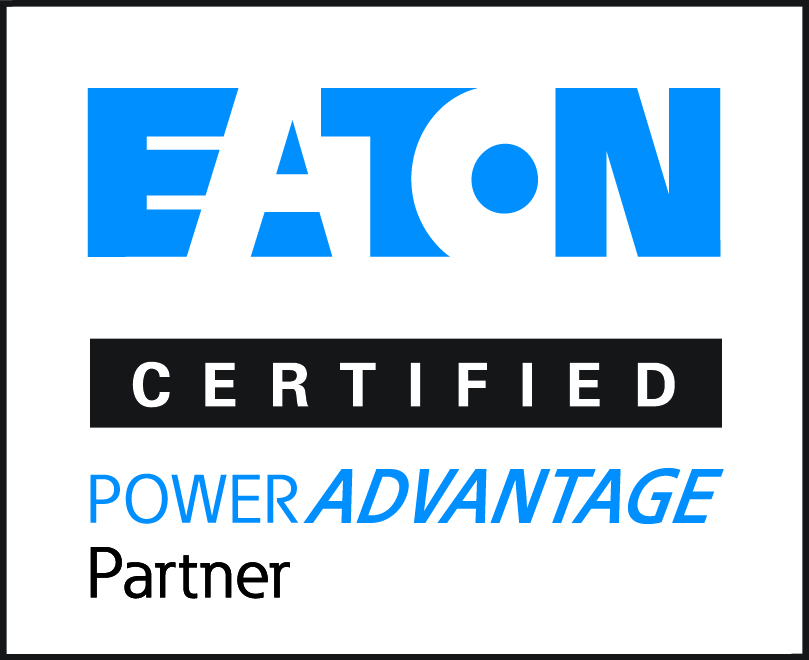 Eaton 9155 UPS Backup Power System

Uninterruptible Power Supply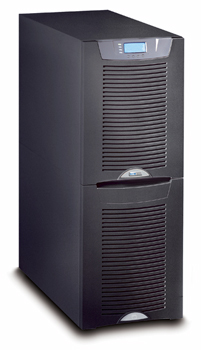 Eaton Products
9155 Models (all models are TAA Compliant)
9155 8 kVA 32 Battery (2-high)
#K40811000000000
List Price:
$10,658.00
Our Price: $6,776.00
9155 8 kVA 64 Battery (3-high)
#K40812000000000
List Price:
$12,674.00
Our Price: $8,167.00
9155 8 kVA 32 Battery w/Trans. Mod. (3-high)
#K40813000000000
List Price:
$14,655.00
Our Price: $9,429.00
9155 10 kVA 32 Battery (2-high)
#K41011000000000
List Price:
$12,227.00
Our Price: $7,775.00
9155 10 kVA 64 Battery (3-high)
#K41012000000000
Our Price: $14,567.00
9155 10 kVA 32 Battery w/Trans. Mod. (3-high)
#K41013000000000
List Price:
$16,752.00
Our Price: $10,651.00
9155 12 kVA 32 Battery (2-high)
#K41211000000000
List Price:
$12,858.00
Our Price: $8,178.00
9155 12 kVA 64 Battery (3-high)
#K41212000000000
List Price:
$15,220.00
Our Price: $9,787.00
9155 12 kVA 32 Battery w/Trans. Mod. (3-high)
#K41213000000000
List Price:
$17,318.00
Our Price: $11,011.00
9155 15 kVA 32 Battery (2-high)
#K41511000000000
List Price:
$13,971.00
Our Price: $8,885.00
9155 15 kVA 64 Battery (3-high)
#K41512000000000
List Price:
$16,632.00
Our Price: $10,576.00
9155 15 kVA 32 Battery w/Trans. Mod. (3-high)
#K41513000000000
List Price:
$18,808.00
Our Price: $11,959.00
More pricing below, click here!
Overview:
Reliability and efficiency have never looked so attractive. The 9155 single-phase Uninterruptible Power System (UPS) delivers a combination of advanced technology, userfriendly design and low price that's absolutely unmatched by competing products. This innovative design offers high efficiency (90 percent or better across all load ranges), low input current distortion (less than 5 percent total harmonic distortion, with an active IGBT rectifier that delivers 0.99 power factor correction) and high power factor output (0.9 PF).
With advances being made in miniaturization and processing power and more equipment being served by dual-cord power supplies, the challenge of protecting that power, and doing so in a limited space, grows ever greater.
Fortunately, advances in technology have also meant that more power protection per square foot can now be provided. The 9155 delivers premium levels of efficiency, reliability and flexibility, all in a sleek tower half the size of most other units on the market today.
Features
A true online, double-conversion topology protects connected equipment from all nine of the most common power problems
Delivers maximum power density in a compact tower design: 12" wide and 33" deep, including batteries
Provides more real power in less space (5,500 watts per square foot) with a 0.9 output power factor – protecting more equipment for every utility dollar and leaving more room for expansion of the data center
Patented Powerware Hot Sync® paralleling of multiple modules delivers extra capacity or redundancy
Customizable output distribution provides user-specified power outlets along with terminals for connecting hardwired equipment
Microprocessor-controlled ABM® technology significantly increases battery life
Provides a 0.99 input power factor and generator friendly 5% total harmonic distortion using an active IGBT rectifier to control the input power factor
Ensures data and system integrity with complete power management software for remote monitoring, management and shutdown
An Eaton factory limited warranty, technical support and optional service plans provide investment protection and peace of mind
Premium power protection is now easier than ever.
With raised-floor real estate at a premium, you'll appreciate that the 9155 requires only three to six square feet of floor space, including internal batteries. Such a small footprint gives you more location options and more space available for future expansion.
Equipment installation is inexpensive and easy – essentially plug-and-play. You can order 9155 models with your choice of more than 19 types of output receptacles. To rearrange or add data center equipment, you simply unplug from the old receptacle and plug into a new one – no need for an electrician to run new conduit and wiring.
Scalable architecture meets current and future load requirements.
9155 UPSs are available in four models: 8, 10, 12 and 15 kVA, so you can choose the configuration that most closely meets your own capacity requirements and price point. And you can scale from there. Using our signature Hot Sync paralleling technology, up to three 9155 modules can be paralleled for extra capacity or redundancy. A 15 kVA UPS, for example, can grow to support loads of up to 45 kVA. There's no dependence on communications wiring among these modules, enhancing reliability and simplifying installation. This paralleling capability Is far more easily achieved than is the case with competitors' products.
Battery innovations optimize battery performance and service life.
Standard internal batteries provide power until auxiliary power takes over or systems are gracefully shut down. Battery runtime can be extended to hours by adding matching Extended Battery Modules (EBM).
Options & service:
Additional 9155 options
Wall-mount maintenance bypass panels
Eaton offers a comprehensive line of optional wall-mounted maintenance bypass panels compatible with the 9155 UPS. The wall-mounted bypass panel is used to bypass the UPS during maintenance or servicing, providing wrap-around bypass for UPS service without shutting down the load. And for more flexible power distribution, these maintenance bypass panels can be equipped with surge protection and provisions for 36 poles of distribution utilizing Eaton's Cutler-Hammer® breakers.
Proven warranty and support services
Customers consistently rank Eaton services number one in quality. Eaton's comprehensive, world-class service solutions are designed to improve costs, uptime, reliability, power quality and safety. And with 240 customer service engineers in North America and 1,200 international authorized service providers, Eaton has more service personnel than any other UPS manufacturer. The standard factory warranty covers:
System warranty: Two year parts / 90 days labor
Battery warranty: Two years parts / 90 days labor
Extensive service options for enhanced reliability
For support beyond the warranty period, Eaton offers enhanced service options including onsite startup, corrective and preventive maintenance, battery solutions, training, remote monitoring and factory spare parts and upgrades. Customizable three-phase UPS services packages allow customers to select the plan that provides the right combination of system uptime, convenience and value.
Service Plans
Features
Service Plans
Factory Warranty
On-Site Gold
On-Site Gold Plus
Comprehensive coverage of the UPS and batteries
Telephone technical Support
Connectivity support
Expedited delivery of replacement parts, modules and batteries
On-site startup
On-site corrective maintenance
Next-day 24-hr response
UPS preventative maintenance
Battery preventative maintenance
Connectivity & manageability:
Enhanced communication capabilities
The 9155 UPS is equipped with a variety of standard communications features for network connectivity and remote management applications, including:
RS-232 serial port
Two X-Slot® communication bays
Relay output contacts
Two programmable signal inputs
Remote emergency power-off (REPO)
Easy network connectivity and monitoring
ConnectUPS-X card The ConnectUPS-X Web/SNMP X-Slot card connects the 9155 directly to an Ethernet network and the Internet and enables graceful shutdown of multiple computers over the network. The ConnectUPS-X Web/SNMP also features a three-port switching hub.
Modbus® card The Modbus card is an X-Slot device that allows continuous, real-time monitoring of the 9155 through a Building Management System (BMS) or industrial automation system.
Relay interface cards The relay interface card for the X-Slot enables remote UPS shutdown and provides isolated dry contact Form-C relay outputs for utility failure, low battery, UPS alarm/OK, and on bypass.
Environmental Monitoring Probe The environmental monitoring probe (EMP) works with the 9155 and ConnectUPS-X card to remotely monitor ambient temperature and relative humidity of the remote environment. The EMP can also be configured to provide status of two additional contact devices such as smoke detectors or open-door sensors.
Power Xpert® Gateway Series cards Power Xpert Gateway Series X-Slot cards provide Web-enabled, real-time monitoring of UPSs, PDUs and RPPs through standard onboard Web pages, Power Xpert software or third-party software.
Power Xpert meters Power Xpert meters combine state-of-the-art technology with next-generation power diagnostics, data trending and performance benchmarking with a twist-and-click LCD display.
Centralized control and visibility
The 9155 UPS is shipped with the Eaton Software Suite CD. The software suite includes the following applications, as well as a user-friendly wizard to guide users through software selection and installation:
LanSafe® power management software
Intelligent Power® Manager
NetWatch network monitoring software
eNotify Remote Monitoring
Eaton's eNotify Remote Monitoring Service provides 24x7 real-time monitoring of the 9155 and battery systems and alerts both service technicians and the customer when a problem is detected. Proactive monitoring enables technical experts to respond immediately to more than 40 alarm conditions and, in many cases, resolve issues remotely with minimal or no downtime. Additional eNotify benefits include:
One-way outbound status and event e-mails for security and reliability
Fast diagnosis and notification of critical alarms
Monthly customer reports including power event logs and overall UPS and battery health summaries
Intelligent Power Software Suite:
Intelligent Power Manager: software for extensive monitoring and management
Intelligent Power Protector: shutdown software for extended power outages
Use each software independently or as a powerful combination. Together with your UPS, they provide end-to-end power management for maximum uptime and data integrity.
Intelligent Power Software Suite
Eaton's Intelligent Power® Software Suite incorporates two important applications for ensuring quality power and uptime: remote monitoring and management of power devices across the network and automatic, graceful shutdown when faced with an extended power outage.
Intelligent Power Manager supervisory software lets you monitor and manage multiple power and environmental devices across the network from a single interface, giving you up-to-the-minute information on the status of power in your network. It also works seamlessly with VMware's vCenter Server™ and vMotion™ as well as other platforms and migration applications.
Intelligent Power Protector protection software provides graceful, automatic shutdown of network devices during a prolonged power disruption, preventing data loss and saving work-in-progress. As part of Eaton's power network management system, these two applications work together to deliver comprehensive power management and protection. Both software programs are compatible with virtualization platforms from VMware®, Microsoft®, Red Hat® and Xen®.
Benefits for virtualized environments
Intelligent Power Manager's integration with platforms like vCenter and XenCenter™ helps data center managers reduce infrastructure and operating costs while increasing uptime, productivity and operational responsiveness.
View critical power information on devices including UPSs, ePDUs and environmental sensors from the vCenter or XenCenter dashboard
Instantly access critical information, such as UPS battery condition, load levels and battery runtime
Remotely and gracefully shut down servers in clusters during an extended power outage
Trigger vMotion, XenMotion™ and other migration applications to transparently move virtual machines to an available server on the network
Monitor power usage and kWh to help you calculate your power usage effectiveness (PUE) and identify where to cut costs
Intelligent Power Manager
When it comes to managing power on your network, one missed anomaly or malfunctioning power device brings everything to a halt. Keeping an eye on the status of power devices across the network, and intervening before a blip cascades into a catastrophe, is a top priority.
Eaton's Intelligent Power Manager brings managing a wide range of power and environmental devices under control through a single, Web-based interface. This versatile software solution is compatible with network-enabled power devices, including Eaton UPSs, non-Eaton UPSs, environmental sensors and ePDUs. In addition, Intelligent Power Manager is the first power management software to not only integrate with VMware's vCenter, letting you manage power to your virtualized environment through the vCenter dashboard, but also to enable the remote shutdown of servers in clusters. Intelligent Power Manager even integrates with several virtualization platforms allowing ease of management and live migration, which will transparently move virtual machines from a server affected by a power interruption to a non-affected server on the network, maintaining data integrity with no downtime.
Features
Monitor and manage multiple power and environmental devices from any Internet browser or your virtual machine management dashboard
User-definable tree structure enables grouping, access and management of multiple devices across multiple locations
Power consumption monitoring helps you track ways to improve both energy efficiency and PUE
Auto discovery provides fast installation by automatically detecting devices on the network
Mass-upgrading of firmware capability reduces network management card setup and maintenance time
Power device asset management tracks moves, adds and changes of equipment
SNMP devices are visible and their individual Web interfaces are accessible for editing and configuration
Multiple password-protected access levels and support for secure communications
All the functionality of an enterprise-class monitoring solution for free or at a fraction of the cost
Intelligent Power Protector
Most UPS applications are designed to protect your network devices from power anomalies, including surges, sags and frequency variations. But when the power goes out for longer than your available battery runtime, Intelligent Power Protector software facilitates automatic, graceful shutdown of computers, servers and network devices powered by a UPS, saving all work-in-progress and ensuring data integrity.
Intelligent Power Protector's versatile user interface shows you detailed information about connected servers and UPSs through USB and serial or network communication. The software has a clear, easy-to-use, multilingual interface available on any PC with a Web browser.
Features
Helps you avoid data loss by gracefully shutting down computers and virtual machines/servers powered by an Eaton UPS during an extended power outage
Watchdog capability keeps kiosks with a PC or server running smoothly by automatically identifying hang-ups and rebooting the machine
Provides redundancy capability for dual-cord servers
Easy-to-use interface from any PC with a Web browser
Acquires UPS information through local or network communication and can be easily deployed on many computers
Can be remotely managed, configured and updated with Eaton's Intelligent Power Manager
Can communicate with the protected device directly (via USB) or through the network (via Web/SNMP card)
Specifications: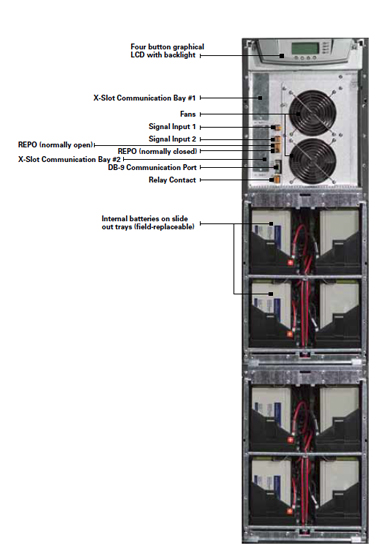 Product Snapshot
Power Rating
8-15 kVA at 0.9 power factor
Voltage
200 - 240 VAC with Neutral or with Optional Input Transformer
Frequency
50/60 Hz
Configuration
Compact Tower
Product Series
Powerware
9155 Models (all models are TAA Compliant)
Part Number
Power Rating(VA/Watts)
Input Plug
Output Receptacles
K40812000000000

8000 / 7200
Hardwired
(1) PDM
K40811000000000

8000 / 7200
Hardwired
(1) PDM
K40813000000000

8000 / 7200
Hardwired
(1) PDM
K41013000000000

10000 / 9000
Hardwired
(1) PDM
K41011000000000

10000 / 9000
Hardwired
(1) PDM
K41012000000000

10000 / 9000
Hardwired
(1) PDM
K41211000000000

12000 / 10800
Hardwired
(1) PDM
K41212000000000

12000 / 10800
Hardwired
(1) PDM
K41213000000000

12000 / 10800
Hardwired
(1) PDM
K41511000000000

15000 / 13500
Hardwired
(1) PDM
K41512000000000

15000 / 13500
Hardwired
(1) PDM
Pricing Notes:
Pricing and product availability subject to change without notice.
Eaton Products
9155 Models (all models are TAA Compliant)
9155 8 kVA 32 Battery (2-high)
#K40811000000000
List Price:
$10,658.00
Our Price: $6,776.00
9155 8 kVA 64 Battery (3-high)
#K40812000000000
List Price:
$12,674.00
Our Price: $8,167.00
9155 8 kVA 32 Battery w/Trans. Mod. (3-high)
#K40813000000000
List Price:
$14,655.00
Our Price: $9,429.00
9155 10 kVA 32 Battery (2-high)
#K41011000000000
List Price:
$12,227.00
Our Price: $7,775.00
9155 10 kVA 64 Battery (3-high)
#K41012000000000
Our Price: $14,567.00
9155 10 kVA 32 Battery w/Trans. Mod. (3-high)
#K41013000000000
List Price:
$16,752.00
Our Price: $10,651.00
9155 12 kVA 32 Battery (2-high)
#K41211000000000
List Price:
$12,858.00
Our Price: $8,178.00
9155 12 kVA 64 Battery (3-high)
#K41212000000000
List Price:
$15,220.00
Our Price: $9,787.00
9155 12 kVA 32 Battery w/Trans. Mod. (3-high)
#K41213000000000
List Price:
$17,318.00
Our Price: $11,011.00
9155 15 kVA 32 Battery (2-high)
#K41511000000000
List Price:
$13,971.00
Our Price: $8,885.00
9155 15 kVA 64 Battery (3-high)
#K41512000000000
List Price:
$16,632.00
Our Price: $10,576.00
9155 15 kVA 32 Battery w/Trans. Mod. (3-high)
#K41513000000000
List Price:
$18,808.00
Our Price: $11,959.00
9155: Hot Sync (Parallel Systems)
9155 Parallel Tie Cabinet
2U Extended Battery Module (EBM) giving additional runtime for Eaton 9130 700 and 1000 rack UPSs - up to 4 EBMs can be attached to each UPS
#124100017-001
List Price:
$1,820.00
Our Price: $1,113.00
CAN Bridge Card PW9155 8-15 KVA
2U Extended Battery Module (EBM) giving additional runtime for Eaton 9130 1500 rack UPSs - up to 4 EBMs can be attached to each UPS
#103004336
Our Price: $530.00
9155: Extended Battery Modules
PW9155 External Battery Module 64 (2-high Stack)
2U Extended Battery Module (EBM) giving additional runtime for Eaton 9130 700 and 1000 rack UPSs - up to 4 EBMs can be attached to each UPS
#103004192-5501
List Price:
$6,465.00
Our Price: $3,976.00
PW9155 External Battery Module 96 (3-high Stack)
2U Extended Battery Module (EBM) giving additional runtime for Eaton 9130 1500 rack UPSs - up to 4 EBMs can be attached to each UPS
#103004193-5501
List Price:
$9,225.00
Our Price: $5,677.00
9155: Maintenance Bypass Module (MBM)
External 125 A Maintainance Bypass Switch
2U Extended Battery Module (EBM) giving additional runtime for Eaton 9130 700 and 1000 rack UPSs - up to 4 EBMs can be attached to each UPS
#BPE20MBB1A
List Price:
$1,880.00
Our Price: $1,128.00
Powerware - Seismic anchoring kit
2U Extended Battery Module (EBM) giving additional runtime for Eaton 9130 700 and 1000 rack UPSs - up to 4 EBMs can be attached to each UPS
#103004194-5501
List Price:
$2,145.00
Our Price: $1,287.00