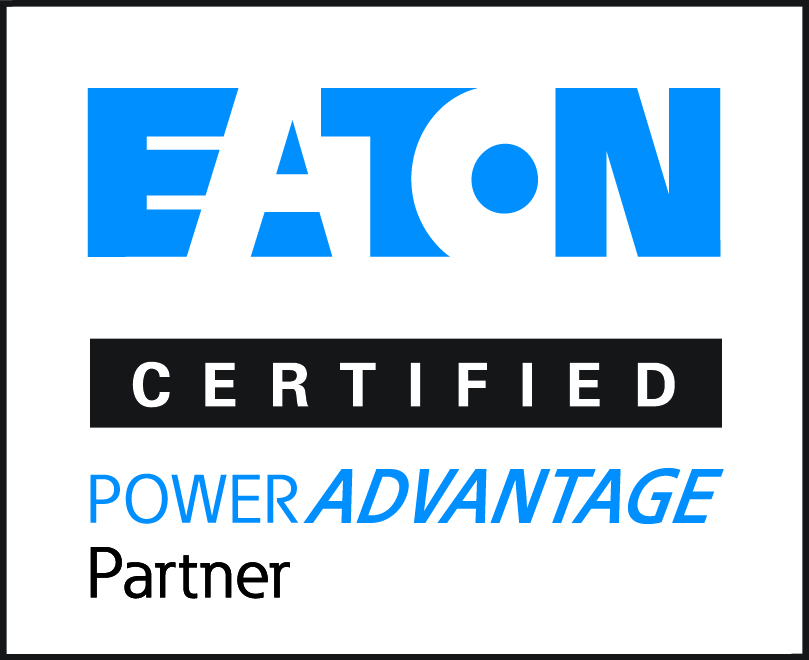 Eaton BladeUPS PDU with Maintenance Bypass

Integrated power distribution and maintenance bypass cabinet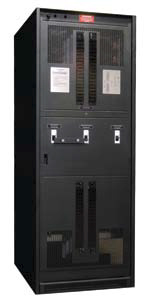 Sorry, this product is no longer available, please contact us for a replacement.
Overview:
The Eaton® BladeUPS® PDU with Maintenance Bypass is an integrated power distribution and maintenance bypass cabinet designed to allow the transfer of power to full system bypass to perform service, testing and maintenance without interrupting power to the critical load. The energy efficient TP-1 rated transformer (480- 208/120V) provides electrical isolation while the two 42-pole Cutler-Hammer panelboards provide distribution. The cabinet comes complete with a maintenance bypass breaker (MBB), rectifier input breaker (RIB), a UPS output breaker (UOB) and a system input breaker (SIB).
As with the rest of our Data Center Solutions products, Eaton has considered the aesthetics of the modern data center, ease of installation and serviceability with this design.
The BladeUPS PDU is intended to be the perfect complement to a BladeUPS 208-208V 60 kVA parallel system. This sturdy cabinet is the product of quality and solid construction including a 12-gauge steel frame. Top, bottom, and side cable entry and exit are all available as a standard feature. The two Cutler-Hammer 42-pole panelboards allow easy installation of additional breakers in the field. This cabinet provides a wide array of functionality while still maintaining a small footprint.
Every BladeUPS PDU with Maintenance Bypass goes through extensive factory testing to ensure that each meets Eaton's strict quality standards. All key components are Cutler- Hammer manufactured.
Features
TP-1, K1-Rated input transformer
Energy-star efficiency, 480-208/120V, along with integral voltage transformation, electrical isolation and high efficiency
Integrated power distribution
Two 42-pole Cutler-Hammer® panelboards allow easy installation of additional breakers in the field and streamlined power cabling with no additional footprint
Integrated maintenance bypass
Maintenance bypass breaker, rectifier input breaker and UPS output breaker—all rated for 225A—for high availability even as the UPS is serviced
Free-standing, easy-access design
Aesthetics that complement other modern data center equipment while providing ease of installation and use for flexible access and deployment options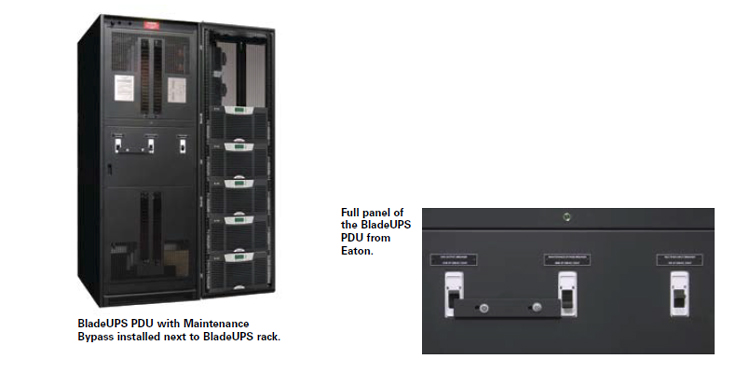 Features:
Step down utility power from 480V to 208/120V to provide electrical isolation and appropriate input voltage for the Eaton BladeUPS (or other manufacturer's UPS) modules that protect your IT and communications equipment.
Eaton has standardized on the high-efficiency TP-1 transformer, which meets the U.S. Department of Energy standard for the Energy Star program. With high efficiency even at low loads, the TP-1 transformer yields significant savings in utility bills. Furthermore, an energy-efficient transformer dissipates less heat, which reduces data center cooling costs.
Distribute power from a full rack of Eaton BladeUPS modules to IT equipment—up to 84 pole positions and a perfect match of kVA rating. By housing full-featured power distribution in the same freestanding cabinet as the maintenance bypass, this new MBC saves scarce wall space and valuable IT rack space.
Perform service, testing and maintenance on a full rack of Eaton BladeUPS modules without interrupting power to the critical load. The integral maintenance bypass is a mechanical way to bypass the internal components of the UPS while still sending utility power to the load. If something inside the UPS must be repaired, it can be completely isolated from utility power so a technician can safely perform service without voltage present.