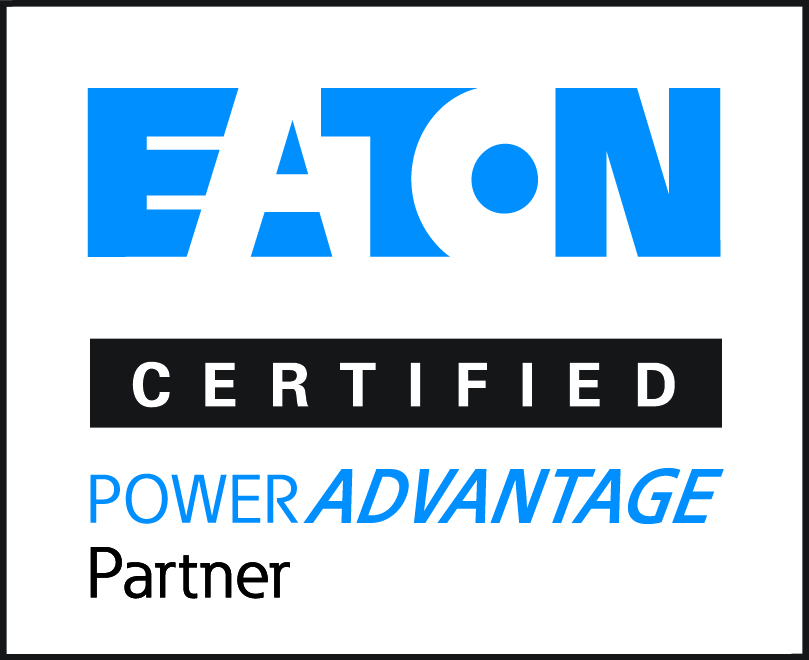 Eaton Power Distribution Unit (PDU)

Provides reliable data center power distribution for both raised and non-raised floor applications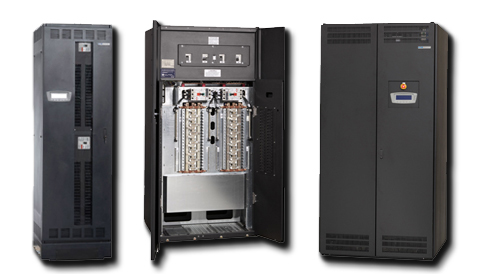 Sorry, this product is no longer available, please contact us for a replacement.
Overview:
The Eaton PDU provides reliable data center power distribution for both raised and non-raised floor applications. To deliver effective power management and monitoring, the Eaton PDU incorporates the Eaton Energy Management System, optimizing both utilization and availability down to the branch circuit level. The optional Power Xpert Gateway PDP Card provides web-enabled, real-time monitoring for power quality status and fast response to power-related events.
To ensure the high performance required for today's data centers, this Eaton-designed and manufactured PDU delivers maximum flexibility in an integrated, factory-tested package:
Features & Benefits:
Integrated isolation, monitoring, distribution and a wide array of options
Scalable architecture and space-saving design
Comprehensive monitoring and connectivity options
Unparalleled ease of use through front-access only design, top and bottom cable access, and spacious wire-ways
Front Access Only:
The front access Power Distribution Unit (PDU) builds on Eaton's strong portfolio of three-phase power distribution. The front access PDU increases the flexibility of the product line and allows for placement in space constrained applications such as against the wall or a corner install. The front access PDU offers ratings from 50 to 300 kVA and K13 and K20 transformers, including TP-1 efficiency. Included Energy Management System (EMS) offers cost effective intelligence to manage load profiling.
Easy Service and Setup
Reduce installation time and save on startup costs
Optional IR scan windows allow for true front access maintenance/inspection
Bottom and top entry/exit
Top only cable entry/exit provides high efficiency power distribution to non-raised floor environments and retains the bottom exit for easy expansion and relocation
Can be installed close to the wall to optimize floor space
Easily removable side and rear covers with captive hardware
Front access control panel for all standard communication expansion and maintenance
Backed by Eaton's extensive network of over 240 field technicans for fast reliable service
True front only design for operation and access
Monitoring and Connectivity
To understand your power profile
Eaton's Energy Management System (EMS) provides state-of-the-art monitoring and alarming provisions
PXGX PDP communication card allows for daisy chaining multiple PDUs together, reducing individual network drops to your power equipment
Monitor the PDU from any computer without software through the integrated web interface, or easily integrate into existing building management systems or Eaton's Power Xpert Software
Stores consumption trends for up to 24 months
Up to 100A branch breaker CTs available
Safety
Protecting employees, contractors and service personnel
Protective trim panels cover panelboard bus/breakers/wiring from accidental contact
Separation of Low/High/Control voltage sections for safer servicing
UL/CSA approved 60950
Shunt trip in subfeed breakers
Aesthetics and Flexibility
Providing the right form-factor for demanding applications
Durable textured finish gives a clean professional appearance to facilities and data centers
Side car required to expand distribution capacity
Field upgrade options for panel boards and subfeed breakers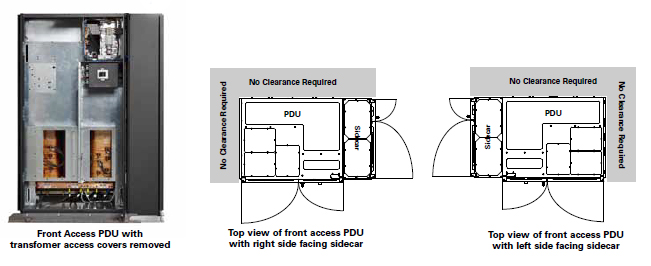 Front and rear access:
Available Options
Panelboards with 400A panel main breaker
Additional subfeed breakers

- 225A (50-150kVA)
- 225A/400A (200-300 kVA)

Branch circuit monitoring up to 100A per branch CT
Plexiglas see-through doors
Input and ground compression lug provisions
Air skirts
Dual input with manual kirk key or sync check interlock
Lockout breaker tabs
Auxiliary and shunt trip main cabinet subfeeds
No local Emergency Power Off option
Field upgradable capabilities
The Eaton line of three-phase power distribution units (PDUs) provide robust power distribution that can be easily tailored to meet the design specifications of any facility or data center. The PDU offers ratings from 50 to 300 kVA and K13 and K20 transformers, including TP-1 efficiency. Energy Management System (EMS) offers cost effective intelligence to manage load efficiency.
Easy Service and Setup
Reduce installation time and save on startup costs
Backed by Eaton's extensive network of over 240 field technicans for fast reliable service
Ample cabling space between panelboards and for subfeed breakers
Standard top and bottom cable access for more flexible installation options
Front access for operation and general service requirements
Easily removable side and rear covers with captive hardware
Front access control panel for all standard communication expansion and maintenance
Monitoring and Connectivity
To understand your power profile
Eaton's Energy Management System (EMS) provides state-of-the-art monitoring and alarming provisions
PXGX PDP communication card allows for daisy chaining multiple PDUs together, reducing individual network drops to your power equipment
Monitor the PDU from any computer without software through the integrated web interface, or easily integrate into existing building management systems or Eaton's Power Xpert Software
Stores consumption trends for up to 24 months
Up to 100A branch breaker CTs available
Auxiliary contacts to interface with third-party monitoring for subfeed breaker positions
Safety
Protecting employees, contractors and service personnel
Protective trim panels cover panelboard bus/breakers/wiring from accidental contact
Separation of Low/High/Control voltage sections for safer servicing
UL/CSA approved 60950
Shunt trip in subfeed breakers
Aesthetics and Flexibility
Providing the right form-factor for demanding applications
Durable finish gives a clean professional appearance to facilities and data centers
Side car options to expand distribution capacity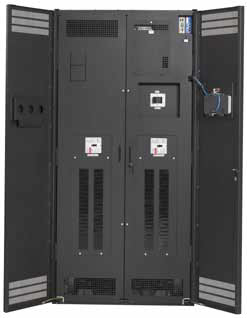 Specifications:
Electrical Characteristics
Input ratings:
Voltage:
208V, 480V or 600V:
Three-phase, three-wire plus ground (Transformerless: three-phase, four-wire plus ground)
Frequency:
60 Hz
Output ratings:
Voltage:
208V/120V, 480V or 600V: Three-phase, four-wire plus ground
Frequency:
60 Hz
Distribution
Cutler-Hammer® 42 pole panelboards with 225A main breaker
Cutler-Hammer® Series C molded case subfeed breakers up to 225A
Up to eight subfeed breakers
Custom subfeed ratings available
Factory installed branch circuit breakers
Options
Dual main input breakers
High kAIC input breakers
TVSS (80 kA-200 kA)
Lightning arrestor
Transient suppression plate
Floor Stands (12", 18", 24" & 36")
Junction box
Manual restart
Isolated ground
Eaton Energy Management System
Branch circuit monitoring
Remote power panels
Distribution cables (WHIPS)
Communication X-Slots™ (Two)
Physical Characteristics
30 to 50 kVA (K1-K20):
36"W x 32"D x 76"H
200 to 225 kVA (K1-K13):
36"W x 32"D x 76"H
200 to 225 kVA (K20):
41"W x 35"D x 76"H
300 kVA (K1-K20):
41"W x 35"D x 76"H
Monitoring Features

Metered Values:

Input voltage: L-L
Output voltage: L-L & L-N
Phase output current
Neutral current
Ground current
kVA, KW, Hz
Total Harmonic Distortion (THD)
Power factor / phase
Percent load / phase
Load Profiling
Min & Max V, I, Hz, KW recorded over a four hour period
Captures highest reading on monthly basis, with trend information over last 23 months
Alarms
Transformer over-temp. & shutdown
Over-and under-voltage (input & output)
High current (Three-phases, N, G)
Phase rotation (input & output)
Phase loss
Building alarms (Two - programmable)
Voltage THD
Current THD
Over/Under frequency
Output overload (3-Levels)
Modem call
Control
EPO (Optional)
Custom shutdowns on alarms:
- Phase rotation
- Phase loss
- Ground fault
- Site wiring fault
- Building alarms
Connectivity
Modbus
Modem
Optional Power Xpert Gateway PDP card for network interface